Laura White, age 15, fought a courageous battle between the questionable enviroment and a nationwide protocol treatment lacking proper individual care with substandard ongoing dialogue.
We were also given false promises of hope of, "Everything will be alright and not to worry!", from the Doctors each and every day during the three short weeks she was in Children's Hospital. The whole family, and especially Laura, had complete trust and faith in the Doctors and they in turn let us down completely. The Doctors definitely did break our hearts. The Pediatric Trainee Doctors (which we only found out after Laura died) treating Laura apparently did NOT have to explain things to us, and this was backed by the College of Physicians and Surgeons of British Columbia. The College says it is the Fellow Oncologist in Laura's case who would talk to us. And where was Laura's Oncologist? On vacation without he or his staff informing us! The Oncolgists and staff at the Children's Hospital and Women's Hospital of British Columbia have or are developing changes thanks mainly to her father, Robert White's strive for change. Her Father states that "no other child WILL go through what Laura has been through", and is thankful to the Doctors at Children's Hospital for their time in listening and making changes due to Laura's passing (July 12, 2002)but sadly the side effect literature changes promised have not been yet been written up. (January 2006) Laura is more than just one of the unfortunate children who die from a weakened immune system and severe side effects and complications from the Chemotherapy as the Oncologists and Pathologists go over statistical data afterwards with the parents that the family knew nothing about before treatments started. Laura requires the dignity to know that future parents and children in similar difficult circumstances know all the facts and truths about chemotherapy verbally and in writing with more consultation and options allowed to offset the risk of possible death due to the Chemotherapy drug side effects. Oncologists cannot continue to keep quiet about death to children, with especially AML, from the side effects of Chemotherapy and just hope it will not happen during initial discussions with the family.

Download or view the notes and observations Robert White, father of Laura, made during the short time Laura was in the Children's hospital of Vancouver. Click HERE

In a MACLEAN'S Magazine article about the tragic death of another young girl one staggering statistic stood out. That each year an estimated 10,000 patients die in Canadian Hospitals as a result of staff errors, while another further 10,000 patients die from "non-preventable adverse events such as hospital infections and unexpected drug complications. In the United States, A recent New England Journal of Medicine study showed that four of every 10 Americans and ONE of every three doctors say that they or family members have been victims of a preventable medical mistake; nearly 10 percent say a family member suffered a wrongful death. In addition, nearly 30 percent of doctors said they had seen a serious medical error in the past year. A 2000 study found that adverse events cause patient harm in 10 per cent of hospital admissions in Britain, amounting to 850,000 times a year. A recently released report from the National Academy of Science's Institute showed that that between 44,000 and 98,000 people die each year in U.S. hospitals because of mistakes (malpractice errors) made by medical professionals and another million people are injured. This shocking fact means that more people die from medical errors than from motor vehicle accidents, breast cancer, or Aids.
Dr. Donald Berwick of the Institute of Medicine believes that the figures for medical mistakes given in the report are in reality much higher. The first reason he gives is that many errors are never even written down, much less reported.
to read more from another report,"Doctors Are The Third Leading Cause of Death in the United States, Causing 250,000 Deaths Every Year".
This information is a followup of the Institute of Medicine report which hit the papers in December of 2002, but the data was hard to reference as it was not in peer-reviewed journal. Now it is published in JAMA (The Journal of the American Medical Association)which is the most widely circulated medical periodical in the world. The author is Dr. Barbara Starfield of the Johns Hopkins School of Hygiene and Public Health and she describes how the US health care system may contribute to poor health.
ALL THESE ARE DEATHS PER YEAR:
• 12,000 -- unnecessary surgery
• 7,000 -- medication errors in hospitals
• 20,000 -- other errors in hospitals
• 80,000 -- infections in hospitals
• 106,000 -- non-error, negative effects of drugs
These total to 250,000 deaths per year from iatrogenic causes!! What does the word iatrogenic mean? This term is defined as induced in a patient by a physician's activity, manner, or therapy. Used especially of a complication of treatment.
to read that Health-care systems in most developed nations are in financial trouble. Health benefits are being cut back because of exploding costs. Degenerative illnesses such as diabetes and cancer are at epidemic levels in spite of new drugs and treatments. While doctors, politicians, and insurers blame each other, they rarely mention the real problem...
to read about 20 TIPS TO HELP PREVENT MEDICAL ERRORS IN CHILDREN.
This information is vitally Important if your child is under medical care in a Hospital. Never take for granted that the Medical Professionals know what is best for your Child. Also, tell the Doctors of any allergies that are in the family NOT just of the Child.
Seek various opinions first which should include a Naturopathic Doctor.
and to read about patient safety tips we should all follow to prevent medical mistakes from happening in Hospitals World-wide.
What we the Consumer must do. Become responsible for helping to prevent medical errors that might harm you or your family. Consumer education is the key. You must be vigilant about your healthcare and any treatments that you may receive. Keep organized records of any doctors that you see, and what medications you are taking. Above all, be persistent, ask questions when things do not seem right. If any of you are aware of questionable treatment from a Doctor or within a hospital, you have a voice. Use it please!
to read what a Medical doctor in the United States says about the difficult duty of disclosing medical errors which is the same in Canada. The Oncologists will never admit fault for Laura's sudden death even though they should never of continued on with the Chemotherapy treatments when Laura was fighting for her life to get over a Sepsis condition and Pneumonia related problem brought on by Doctor's errors and lack of cleanliness.
to read just one account of a Hospital in the United States where medical errors is out of control. How many other 'King/Drew' Hospitals are out there in the United States in Canada? In Minnesota a new state law requires Hospitals to report Medical Mistakes. That report was just published from July 2003 to October 2004.
to read about the widening gap between the best and worst hospitals in May, 2005.
to read Health News (September, 2003) from the United States regarding health care problems in a well-known Children's Hospital which just points out the similar problems that we went through with sub-standard treatment for our Daughter.
and and to read the latest news that nearly 195,000 people in the U.S. died each year as a result of potentially avoidable medical errors in 2000, 2001, 2002 and 2003, according to a new study of 37 million patient records released July 27,04. Researchers estimate that more than 575,000 preventable deaths occurred as a result of the 2.5 million patient safety incidents that occurred at U.S. hospitals from 2000 to 2004. These medical errors also resulted in an additional $19 billion in health-care costs. "The HealthGrades study shows that the IOM (the Institute of Medicine) report may have underestimated the number of deaths due to medical errors, and, moreover, that there is little evidence that patient safety has improved in the last five years," said Dr. Samantha Collier, HealthGrades' vice president of medical affairs. "The equivalent of 390 jumbo jets full of people are dying each year due to likely preventable, in-hospital medical errors, making this one of the leading killers in the U.S."
to read the latest news from the World Health Organization that 750,000 people are killed each year by prescription drugs and conventional medical doctors, (One in ten hospital patients harmed by preventable medical mistakes). Then modern health care is the leading cause of death in the United States, killing more people than even cancer.
to read more information on medical errors happening in major hospitals. Serious surgical mistakes often begin as simple errors that go undetected. Reading the wrong patient's hospital chart or test results, failing to look at an X-ray or looking at one backwards, improperly filled out forms, or marking the wrong surgical site have all resulted in catastrophic mistakes in the operating room.
to read about a May 2005 article involving New York State hospitals and that 7,000 patients do not have to die!
to read that Hospital-acquired infections are worsening in the United States, even though the problem is widely recognized, according to a report issued on Monday, May 2nd, 2005. "Hospital-acquired infections rates worsened by approximately 20 percent from 2000 to 2003 and accounted for 9,552 deaths and $2.60 billion, almost 30 percent of the total excess cost related to the patient safety incidents," the company, a Colorado-based Health Grades Inc, said in its report.
to read that just recently in March, 2006 a bill was passed that would make New Hampshire hospitals report statistics about infections that patients contract while being treated at the hospital. The state would make the information available on the internet so consumers could browse infection rates before picking a hospital. All Hospitals worldwide should be making accessible to people statistics on hospital acquired infections.
and and to read the latest information in the news as of the summer of 2005 regarding Health Care and the problems with Hospitals.
to read about the Amendments voted for in Florida. The whole of United States and Canada should have these Amendments in place to cut down on Medical Errors.
to read more about Florida and their Health-care system improvements.
to read that two new national polls show widespread support for doctors and hospitals to fully disclose medical errors to patients and issue apologies for medical mistakes. The 2006 Patient Trust and Safety surveys conducted by the American College of Physician Executives (ACPE, www.acpe.org) also reveal that 77 percent of the physicians who participated say there is a doctor in their own community that they would avoid because they think the doctor makes medical mistakes. In Canada and in the Provinces there should be polls done as well regarding Medical Errors.
and and and and to read the CBC News Canada reports and Ontario Healthcare reports about the sad state the Hospitals in Canada are in regarding health care, medical mistakes, lethal infections and the lack of patient safety. Hospital care, or lack of, is among one of the leading causes of death in Canada. (May 26, 2004 Globe and Mail). A Canadian Institute for Health Information (CIHI) report released in 2004 entitled "Healthcare in Canada" confirmed that as many as 24,000 Canadians die each year due to medical errors. Hospitals have been focusing increased attention and resources on how to prevent these errors.
In 2004, the Canadian Medical Association Journal published a report that suggested medical errors are quite commonplace. It estimated that 7.5 percent of people admitted to Canadian hospitals in 2000 suffered an "adverse event", which was defined as anything causing death, disability, or an extended hospital stay; almost 40 percent of these were preventable. The study also estimated that there were between 9,250 and 23,750 "preventable deaths" in Canadian hospitals that year.
to read a report that Canadians reported the second highest level of medical mistakes, just behind the United States, in an international survey of six countries released November 3, 2005.
Overall, 78 per cent of the 750 Canadians surveyed last spring said the country's health care system needs to be fundamentally changed or completely rebuilt, the highest of any country except Germany.
to read an April 2006 news report about the latest studies underway in Canada to do with Patient Safety after earlier reported 24,000 deaths each year in Canadian Hospitals from preventable medical mistakes. As this news story reads and I agree totally, "but let's not study the thing to death. As soon as possible, Ottawa should take firm action to mitigate these needless tragedies".
and and and to read about Hospital patient safety effort launched to reduce errors and to save lives in the United States and in certain States which hopefully will carry over to other countries. In England also they are making strides in Patient Safety Awareness.Canada Government Officials, are you taking notice??
6 ways to save 100,000 lives
By implementing these six initiatives across the nation, the American Medical Association and the Institute for Healthcare Improvement seek to reduce hospital system errors and save 100,000 lives over the next 18 months.
1. Deployment of a rapid response team at the first sign of patient decline.
2. Assurance of optimal care for patients with acute myocardial infarction.
3. Prevention of ventilator-associated pneumonia.
4. Prevention of surgical site infections.
5. Prevention of adverse drug events.
6. Prevention of central line infections.
Sources: American Medical Association, Institute for Healthcare Improvement.
to read that an average of 60 people a year have died in Canadian aviation accidents since 2000, while as many as 24,000 Canadians die annually and tens of thousands are injured by botched surgeries, misdiagnosis, bad drug reactions and other preventable medical problems, according to studies of Canadian hospitals. It is estimated one of every 13 people who enters hospital has some sort of adverse reaction, which can range from a drug-induced rash to death. The Canadian Patient Safety institute (CPSI), with a budget of $8 million a year, has projects under way to reduce the risks associated with everything from sleep deprivation of staff in intensive care units to proliferating medical devices and treatments. It looks like the new Canadian Government is attempting to do something to improve Patient Safety and reduce the amoount of Medical Mistakes in Canada. Follow the United States lead in their research and studies is all I ask for!
to read that nearly 3,000 hospitals in the United States are joining together for the "100,000 Lives Campaign," a national hospital reform effort initiated in 2005 by the Institute for Healthcare Improvement. In 1999, the Institute of Medicine released a shocking report that said as many as 98,000 people die each year in hospitals throughout the United States due to medical errors or other preventable causes. In the States steps are underway to reduce this horrendous death rate. Canada, please take notice?
CPR Performance Does Not Follow Guidelines:
to read about the study to examine in-hospital cardiac arrests at the University of Chicago Hospitals from December 11, 2002 until April 5, 2004. Using a monitor/defibrillator with novel additional sensing capabilities, the researchers recorded parameters of CPR quality including chest compression rate, compression depth, ventilation rate and the fraction of arrest time without chest compressions (no-flow fraction; NFF). Data was collected from 67 in-hospital arrests. The researchers found that analysis of the first 5 minutes of each resuscitation by 30 second segments revealed that chest compression rates were less than 90 compressions per minute in 28.1 percent of segments. Compression depth was too shallow for 37.4 percent of compressions. Ventilation rates were high, with 60.9 percent of segments containing a rate of more than 20/min. A total of 27 patients (40.3 percent) achieved return of spontaneous circulation and 7 (10.4 percent) were discharged from the hospital. I truly feel that inadequate resuscitation efforts were done for our Laura to revive her from ventricular fibrillation and subsequent death. The Doctors even said Laura died even while on Life Support Equipment. How could that happen!!
and and and and to read the news from England (July,2004)about Medicines killing 10,000 people per year in that country. Now in 2005 from a recent article British Doctors lead a campaign to confess to Medical Errors to encourage others to report incidents plus another article how Hospitals hide their blunders and yet another article in the BBC news of more than 2,000 people died in English hospitals in 2004 due to lapses in patient safety.
In December 2005, According to a recent report published by the National Audit Office, over 2,000 patients died last year in hospital as a direct result of errors and accidents by medical staff.
to read a September 2004 report that Patients should take the initiative to defend themselves against the medical errors that are causing 40,000 preventable deaths a year in England, an NHS manager said yesterday.
They should challenge doctors or nurses who exam them without first washing their hands, according to Stephen Thornton, the chief executive of the Health Foundation and former leader of the NHS employers' body.
And they should question any healthcare assistant who provided medication of an unfamiliar colour or texture without giving a clear explanation why the prescription had changed.
He said the best estimate of the number of adverse incidents in English hospitals suggested that 800,000 patients suffered the consequences of infection, mistakes or negligence every year; about 10% of all those treated.
There were 40,000 preventable deaths as a result of breakdowns in patient safety.

In a Dutch, October 2004, news brief Medical errors 'kill 3,000 every year'. Some 30,000 people are the victims of medical error each year and 10 percent of cases result in the death of a patient, Tilburg University has claimed. The university has urged hospitals to change the way they deal with medical errors. It said doctors must be able to discuss their mistakes openly, so that others can learn from them, Radio Netherlands Reported Friday. The research agency TNS NIPO said medical errors cost the Netherlands EUR 1.4 billion every year.
and to read about the problems in South Africa regarding Health Care in the Hospitals where the Hospitals need to 'come clean' on mistakes. According to the World Health Organisation (WHO), one out of every 300 patients will die from a medical "mistake" throughout the world - which compares poorly with the safety of the aviation industry where one in 3-million passengers can expect to die in airline crashes in the United States.
to read about the terible condition in Taiwan Hospitals. In the article it says,"Doctors no longer get up in the middle of the night to treat a child of a poor family. "Famous" or "big-name" doctors already have their own internal rule to seriously treat only patients that are "connected" or those who come recommended. Which large hospital lacks authoritative doctors who are unwilling to treat ordinary patients or require a bribe before carrying out an operation?"
and and to read about problems with Australian Hospitals repeating fatal drug errors and that so many Hospitals are way too risky for patients' safety plus how in 2005 there is a 40 percent rise in errors.
and to read about a latest report in Norway about deaths in Norwegian Hospitals from Medical mistakes and in Italy where OVER 6 PCT OF PATIENTS DIE IN HOSPITALS.
to read a December 2005 news report which says,international data indicates that 100,000 people died in the United States last year due to mistreatment, while 45,000 patients fell victim to doctor errors in the UK, and 30,000 in Germany. The staggering figures were 3,000 to 6,000 patients who died in Hungary last year as a result of medical misconduct.
Not only in England, United States, Australia, Asia, Africa and Europe but in Canada also there is an alarming increase in medical mistakes, lethal infections and the lack of patient safety in Hospitals and little done by the Governments to stop this terrible trend.
to read a MACLEAN'S Magazine article about little Claire Lewis and her family's struggle to to obtain justice in their Daughter's death in Canada.

Outrageous Medical Mistakes, Oprah Winfrey Show, that aired recently on Television highlights the growing concern of Medical Errors occuring at an increasing rate across this land.
to read about some unfortunate people who suffered from outrageous Medical Errors that appearing recently on the Oprah Winfrey Television Show.
TO READ ABOUT THE PROCEDURES THAT SHOULD BE CARRIED OUT IN HOSPITALS TO PREVENT THE SPREAD OF OPPORTUNISTIC ANTIBIOTIC RESISTANT BACTERIA SUCH AS THE ENTEROBACTER BUG.
To read about what the Earth and Sky radio show has said recently on ways to strip bacteria of antibiotic resistance to such antibiotics as Vancomycin. This is great news! Our Laura had the Enterobacter super bug enter the surgical point where the Doctors put a INTRAVENOUS CATHETER in her. When it became infected the Doctors right away gave Laura Vancomycin which no effect on the super bug. Instead of changing to a newer antibiotic such as Linezolid the Doctors contined with Vancomycin for 3 weeks until she died. How thoughtless and irresponsible can they be!!
To read on procedures when to use Linezolid type antibiotics.
To read recent news on the Antibiotic Gatifloxacin which is associated with an increased risk of potentially life-threatening blood sugar abnormalities.
and and and and TO READ THE LATEST NEWS THAT HOSPITALS IN CANADA ARE PUTTING PATIENTS IN DANGER BY REUSING MEDICAL DEVICES MEANT FOR SINGLE USE SUCH AS CATHETERS AND SURGICAL INSTRUMENTS. ALSO, IN THE UNITED STATES THE PRACTICE OF RE-USING TOOLS INTENDED FOR ONE USE ONLY IS IN THE NEWS AS THESE TOOLS CAN BE FATAL. OUR LAURA HAD AN INFECTION AT THE SURGICAL POINT OF AN INSERTED INTRAVENOUS CATHETER AND POSSIBLY IT WAS USED BEFORE WHEN IT SHOULD NEVER HAVE BEEN.
To read about further problems in United States Hospitals in which surgical instruments that were cleaned with hydraulic fluid instead of detergent, a mistake that affected nearly 4,000 patients.
To read that the United States Government has announced plans to investigate the safety of the use of reprocessed medical devices designed for one-time use and FDA oversight of the practice. Hopefully once a new Government in Canada is in place, January 2006, they also will look into the re-use of medical devices designed for one-time use.
To read about new Regulations for Drug Labels Aim to Cut Medical Errors in 2006. The changes are designed to sort and clarify the flood of information that doctors routinely confront when assessing the safety of prescriptions drugs.
"We have hit a point of information overload and the public health message is being diluted," the United States surgeon general, Dr. Richard H. Carmona, said.
Each year, some 300,000 people are injured and nearly 100,000 are killed in hospitals because of medical errors, studies show. Dangerous drug interactions and prescribing errors are a major cause of these problems.
To read that over 250,000 die each year in the United States from potentially preventable medical errors under Medicare. There are similar tragic stories in Canada and other countries but in the United States statistics are kept.
To read that a US State Senator is proposing that hospitals be required to report medical errors online within two days of the mistake. State Senator Elaine Alquist says public accountability at hospitals needs to improve. Alquist says her goal is to make sure hospitals are a safe place for sick people. What we need is Politicians in Canada and in other US States willing to push harder that Hospitals report Medical Errors promptly.
and and and to read that the number of medical errors leading to "patient safety incidents" rose in U.S. hospitals to 1.24 million between 2002-2004, compared to 1.14 million over the previous three-year period, says a new study released April 03, 2006 by the healthcare ratings company HealthGrades.
Among the other findings in this third HealthGrades Patient Safety in American Hospitals study:
If all hospitals performed at the level of the top 15 percent of hospitals, there would have been 280,134 fewer Medicare patient safety incidents and 44,153 fewer deaths, saving $2.45 billion in the years 2002 to 2004;
Of the 304,702 deaths that occurred among patients who developed at least one patient safety incident, 250,246 were potentially preventable;
Medicare patients who had at least one safety incident had a 1-in-4 chance of dying during their hospitalization. That rate is unchanged since the first study;
The most common safety incidents were decubitus ulcers (bedsores), post-operative sepsis (a bacterial bloodstream infection), and failure to rescue.
To read about the latest news about Blood Infection Deaths which is the cause of more than 200,000 deaths alone in the United States annually. My Laura had Sepsis as well as a punctured lung and yet the Doctors felt it was in Laura's best interest to continue with the High Dose Chemotherapy regime. A decision which was so wrong that led to Laura's death. How awful these Doctors are to NOT think of Laura's safety first.
To read the story of a woman's very sick father in the Hospital care of medical professionals entitled, "How to Heal a Health-Care system in Critical condition?". From witnessing the treatment for her father she says, 'mistakes are commonplace in an environment where one hand hasn't a clue about what the other is up to. Doctors, nurses, and others are routinely left in the dark about key patient information because the diagnosis, or complicating medical problems, or specific treatment, or varying restrictions aren't effectively disseminated among all attending medical staff because of, well, shift changes, and other functional distractions'.
AND To see the latest news from the Canada NewsWire and HEALTH CANADA on the new Canadian Patient Safety Institute (CPSI). The Health Minister of Canada is hoping the Institute will reduce the risk of system errors and ensure that Patients receive the best possible care. With the latest election in Canada there is a new Health Minister and perhaps we will see changes to improve Patient Safety soon and in 2006 I read about new initaitives and studies underway. It was the lack of patient safety, lack of communication and an operation gone wrong that led to Laura's sudden death in Vancouver's Children's Hospital in July of 2002.
In 2005 / 2006, with two Federal Elections, this new Department has done very little to improve health care in Canada, and lead by example to push for laws, as in the United States, for Hospitals to report Medical Errors.
and and and to read news from the United States on Hospital Errors. As many as 98,000 deaths are caused by medical mistakes in hospitals each year. Often, the mistakes involve issues such as not having immediate access to records that would indicate whether a patient can or cannot tolerate a particular drug or from sleepy interns making errors in the hospitals. "Electronic health information will provide a quantum leap in patient power, doctor power, and effective health care," said Tommy G. Thompson, secretary of the Department of Health and Human Services, in announcing the report. "We can't wait any longer." Finally, the United States is starting to do something about these terrible events in which Canada continues to lag behind.
to read how the United States Senate is now doing something positive in their quest to reduce Medical Errors. As long as there is a strong Medical Protective Association for the Doctors in Canada more and more patients continue to die from Medical Mistakes and very little from the Governments is done to stop this trend, especially for our children!
"The electronic management of medical information is one of the most urgent priorities in healthcare and perhaps the most important component for reducing costs and improving medical care," said Childrens Hospital Los Angeles President and CEO Walter W. Noce, Jr.
ALL CHILDRENS HOSPITALS IN THE WORLD SHOULD BE IMPLEMENTING SOME FORM OF COMPUTERIZED PHYSICIAN ORDER ENTRIES.
and to read about new State bills, effective January 2006, that aim to improve healthcare throughout New York state, Indiana and Minnesota. These bills will force hospitals to report ANY infections patients get during their hospital stay. Reporting infections from Super Bugs (MRSA, Enterobacter and Vancomycin- Resistant staph) are vitally important as well as reporting any medical mistakes that have destroyed the safety of the patient should be done by ALL Hospitals worldwide to a central collecting Agency.
To read Medical errors, adverse events and 'near misses' could be putting around 34,000 US hospital patients at serious risk every year, according to new research. In the final analysis studies such as this will save lives. Dr Stephen Pauker, co-author of the report said, "Gathering accurate data about medical errors is a necessary step toward making medical care safer."
To read where Bill Braithwaite, chief medical officer of the eHealth Initiative and Foundation, a Washington, D.C., think tank says "It's very clear we in health care are killing people unnecessarily. In almost every industry except health care is technologically updated." Braithwaite likened the lag to a jetliner crash that kills hundreds. "Investigators are so thorough, the problem is found, fixed and likely to never happen again," he said. "But in health care, thousands die every year and nobody is paying attention!," Bill Braithwaite said.
to read below about the July 29, 2005 Legislation passed by President Bush. Hopefully other countries will follow the United States lead in their attempts to reduce Medical Errors. President Bush Signs Patient Safety Legislation Legislation creating a nationwide system for reporting and analyzing medical errors was signed into law Friday by President Bush. The signing ended years of debate over whether to make the system mandatory or voluntary. The new law makes it voluntary for hospitals to confidentially report mistakes; such reports could not be used in malpractice suits, according to the Washington Post. A 1999 report on medical errors from the National Institute of Medicine found that as many as 100,000 Americans die each year due to medical mistakes. At present, 23 states have systems for collecting reports of these errors, and all but one is mandatory, the Post said. Hospitals and medical providers have long argued against mandatory reporting systems, saying voluntary ones would encourage more doctors and hospitals to participate, the newspaper reported. "This law strikes the proper balance between confidentiality and the need to ensure responsibility throughout the health care system," the American Medical Association said in a statement praising the presidential bill signing. Under the law, hospitals are encouraged to report their mistakes confidentially to groups known as patient safety organizations. These groups ultimately could contract with the facilities to analyze past problems and prevent future mistakes. The federal government, at a five-year cost of about $60 million, would develop the computer network and help coordinate the nationwide effort, the newspaper said.
to read more about Electronic Records on the Horizon in the United States. Studies estimate that the health care industry wastes up to $300 billion a year on tests that don't improve health, are redundant or are inappropriate for the patient's condition. The Institute of Medicine estimates that 44,000 to 98,000 people die in hospitals each year of preventable medical errors. Many experts believe having information readily available electronically could save money and lives.
to read a December 2005 that Hospital Patient Safety Efforts Lagging Behind in the States.
to read where UnitedHealthcare, the health plan subsidiary of UnitedHealth Group, has released its first-ever report card that rates quality of care and affordability among 20 of its contracted hospitals throughout Colorado. The report rates the hospitals by measuring 150 medical procedures, including colon surgery, treatment of pneumonia, viral infection and chest pain, cesarean section, disc surgery, knee and hip replacement, and obesity procedures. Each procedure's quality rating is based on patient volume,complication and mortality rates, failure to rescue or death from complications, ICU physician staffing, and computer-assisted order entry.
to read where a new initiative in the US to reduce infections acquired by patients in Michigan hospitals was launched April 20, 2006 by the Michigan Health & Hospital Association (MHA) Keystone Center for Patient Safety & Quality. "Controlling and preventing infections is a patient safety priority for Michigan's hospitals and permeates every aspect of hospital care," said MHA President Spencer Johnson. "Hospitals understand that better and safer care, faster recovery, improved comfort for patients, and lower health care costs all come from reducing and preventing infections." I agree entirely with what Mr. Johnson says. My Laura died from one of these terrible 'super' bugs in which the BC Childrens' Hospital was not quick to diagnose the infection and treat it properly. This is happening far too often in our Hospitals.
to read that the World Health Organization announced Tuesday, August 23, 2005, that an American group will coordinate an international effort to combat medical errors, which seriously harm 1 in 10 hospitalized patients.

Protect yourself in the hospital
1. Ask doctors or nurses to wash their hands before they treat you. Before an operation, have the surgical site marked with permanent ink. Confirm that a nurse or doctor marks the correct site.
2. Keep copies of your medical records and charts - with written or typed notes from your doctor - not just your bills.
3. Make sure your doctor or nurse confirms your identity - by asking your name or checking your wristband - before giving you medicine or treatment.
4. Read the label on your medication before taking it or allowing someone to hook up intravenous fluids. Confirm that your name is on your medication. Check the dose and name of drug. Many medication names sound alike.
5. To prevent harmful interactions, tell your doctor or pharmacist about everything you take - including over-the-counter medicine, vitamins, herbs, supplements, homeopathic remedies, alcohol or recreational drugs.
6. Tell your doctor about any allergies or negative reactions that you have had to medicines in the past. (With Children, Family allergies and/or negative reactions to drugs should be discussed - R.White)
7. Make sure you can read the handwriting on a prescription. If not, ask to have it printed or typed. Source: Joint Commission on Accreditation of Healthcare Organizations
to read a news report that Patients need to be more active in their own health care.
to read about Two new national (USA) polls that show widespread support for doctors and hospitals to fully disclose medical errors to patients and issue apologies for medical mistakes.
to read an important article about choosing the right Hospital requires doing your homework.
THE COURTS AND MEDICAL MALPRACTICE:
Medical Malpractice:In the Doctor's Corner, Inside the CMPA: Another powerful show that aired recently on the CBC Television Network. Laws in Canada MUST change to protect our children. Very few Lawyers will take on cases involving Child Death through Medical Malpractice. A "No Fault" clause is the best way to go to improve our Medical System and save our children!
to read more disclosure about the Canadian Medical Protective Association in Canada in regards to Malpractice cases.
to read It is well known in the medical profession itself that doctors are not always inclined to report their errors, or those of their colleagues, for a number of reasons. These include: (a) the desire to escape punishment; (b) the unwillingness to admit their negligence; (c) the belief that protecting a colleague will somehow ensure the same degree of loyalty from that person when and if the tables are turned; (d) fear of retribution from one or more superiors; (e) a reluctance to bring one's hospital into disrepute; and (f) sheer arrogance. This routine lack of accountability for medical errors is the main reason why they remain so prevalent and continue to be a threat throughout this country and the world.
to read that in the State of Texas the laws have been distorted so badly in favour of the insurance companies that there is often no avenue for average Texans to find answers when needless tragedies occur. However, let's not confuse fewer claims with less malpractice. There is no evidence that patients are any safer or that less malpractice is being committed. It only means that victims of the ongoing malpractice epidemic are shut out. In Canada probably one in ten legitimate cases of general malpractice go forward because of the costs associated with them… There's nine people out there who have been injured through no fault of their own, who are not being compensated. The Canadian Medical Protective Association (CMPA) does pay up on around 400 cases a year – and it can afford it. It has a $2 billion war chest. That money is also used to pay for that vigorous legal defence of the Doctor. And you may be interested to know that you, the Canadian taxpayer, are footing most of the bill. Doctors pay fees to the CMPA, and those fees are then refunded by the province. Ontario doctors get around a seventy per cent refund. In British Columbia some fees are one hundred per cent refundable!
Our dearest Laura,A courageous fighter, June and July 2002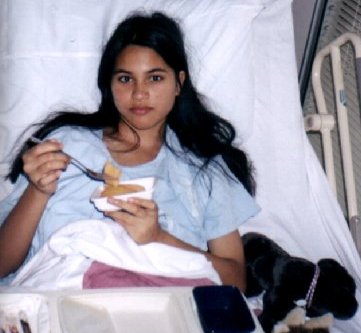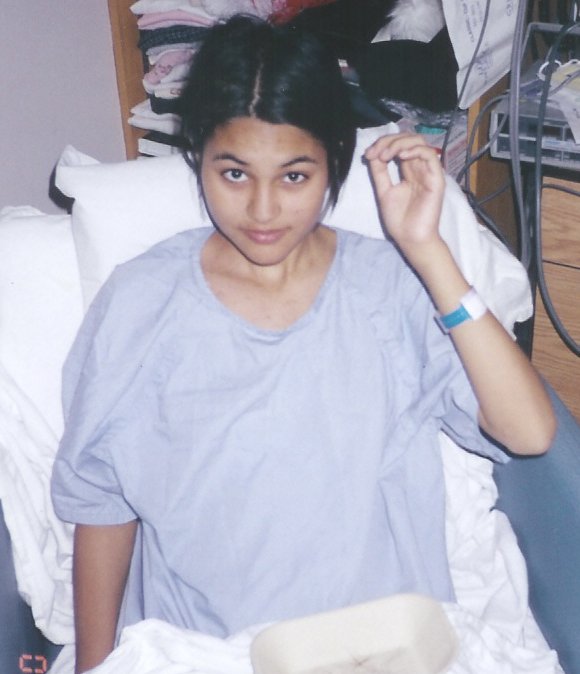 God Bless you, My Laura