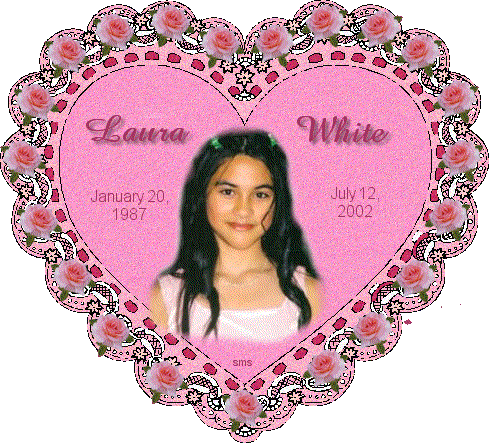 Note: I try to avoid writing in the past tense when describing who my sister -is-
My sister, Laura, and I grew up together. We fought, we complained, and gossiped. We shared, we cared, and we contributed, prayed, and loved.
Laura is the near-perfect sister anyone could ever dream of. My sister would think of her older sister always. A 'happy-treat' was given to the both of us (and Laura made sure of that).
Laura IS a fast learner. She had a few hand-me-downs; but appreciated them. My sister grew up and taught herself many, many things… though sometimes overdid herself in the process.
My sister started to play soccer in a community league (I.C.S.F) alongside with myself who played for an older division (this way many years back, mind you). However, I was young enough to be eligible to play on her team as well. When my games finished earlier, Laura's coach would have me play on Laura's team. It was much, much, much easier to play on her team (being the oldest of the team, and more experienced). It was so fun playing soccer with my sister. I enjoyed teaching her, and giving her a helping hand.
It seems that everything I did as a "big sis", "little sis" would soon follow. I started piano lessons, and in a year or two, so did my sister. I did not mind at all! In fact, my sister became so good at piano, she won first prize in a Mobile Music School Piano competition. She played a song I had borrowed from a friend a few years prior to her competition, which she made her own (Beethoven's Fur Elise).
When I was in grade seven, I was elected G.T. Cunningham Elementary's school Prime Minster. My sister (you can probably fore guess what happened) also became Prime Minsister when she rode on in to grade 7. My sister always seems to keep up the legacy of our sisterhood (and she definitely creates her own).
I was very lucky to have shared my last two years with Laura's first two years of high school. We attended Gladstone Secondary. I hope I didn't embarrass my sister too much when I greeted her in the hallways (or half way down the hall way) with a big "Hi, my Sis-tar!" Sonia, my good friend, would second the greeting with an oh-so-jubilant "HI WA!!!!!" (Wa is Laura's nickname—you see, I go by one syllable names: ma, da, wa, la (Ayla the dog)).
Laura and I love music very, very much. In fact, when she was about the age of … 5 (and I as about 8) we created a band with our neighbour at the time. I sang, our neighbour-friend played the "piano", and Laura played the "drums" (the drums were simply a set of empty tin cans).
My sister loves animals. She wanted to be a Vet one day, as she loved and cared for animals. She loves one animal in particular: Her dog, Ayla. Ayla and her, in my eyes, were the best of friends. Ayla would follow her EVERYWHERE, which sometimes bothered my sister. I am thankful Laura was able to keep Ayla; it was a wish of her's when she was very little.
On Laura's first year of high school, I composed a piece entitled "I'm on the road (to sweet misery)", and decided to enter the Talent show. This piece provided music for both the piano and voice; but I felt the need to add an extra instrument. Laura played the guitar (and taught herself how to do so), so… with that, I had her learn the chords and provide the harmonies to the song. And, in turn, we placed first in the school's Talent show. I am so proud of our sisterly achievement.
The following year, I decided to go solo, and sing. I entered the talent show once again, and… what luck, won again. I was so glad my sister got to hear me sing the song, written by my piano teacher's friend, which was about following a heart, a dream, and a proclamation of current stance. This same song is what she played in her hospital room. She loved it, and cried to it.
Laura and I played an online role-playing game called Nexus: The Kingdom of the Winds, alongside with my friend Sonia, for over three years. Our role-play was simple, yet most admirable at the same time. Basically, Sonia and Laura were twins of the Shades, and I was the older sister of Divinity. We had a fetish over apples, and that became our known symbol to many in the Kingdom of the Winds. Laura's name, on Nexus, was StarLyte. And, she most deinfinately is a bright Star of Light. Our sisterly bond grew ever so closer with this game.
Today I study music at the University of British Columbia. I told Laura that I am going to dedicate all that I do with music to her. Laura is my guiding light, the fire, the essence of what I will grow to be. My sister will be the one to provide the starry-beauty in the music I will write and sing in memory of her.
The words of her sister:
Christine White