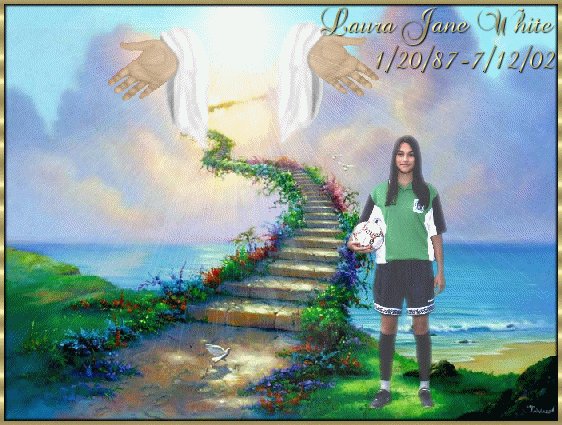 July 12th, 2003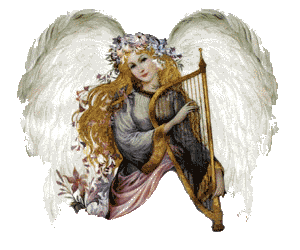 Laura's First Angel Anniversary
will be always remembered for the support 
of family and friends who attended the
Church Service at Noon and the candlelight
Memorial later in the evening at
Laura's Gravesite. Prayers and poems
were read and many of Laura's friends
talked about their memories of Laura.
Laura's Uncle Bill sang a beautiful song.
It had rained very hard in the afternoon
but the sun had broken through shortly
before the gathering of everyone at
Laura's gravesite and a rainbow appeared.
It was so beautiful and still(no wind)during 
the candlelight memorial, and when it was over
the rains came again. Was it just a lucky 
break in the weather or a gift from our Laura?
Rose, Christine and Bob thanks everyone
for attending the Church Service and
Candlelight Memorial, plus everyone else
who lit a candle for Laura and sent or gave
us comforting words and flowers.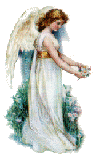 As Read by Laura's Uncle Bill at the Candlelight Memorial:


"Some people are like Comets. 

they streak through our lives in a flash of excitement,            
love and awe.

Then they are gone, never to be seen again,

although we think of them often,

Cometlike people cannot be held onto or controlled.

They need to keep moving,



lighting up yet another sky.

Sadly, some comet types die 

too young, and we miss them and

grieve deeply in their absence.

But the angels know 

that each comet person 

who has left the earth at a young age  

exits in a burst of 

light that remains for the good of those left behind.

A comet would never want us to mourn its disappearance. 

So comet people want us to remember the                             
joy they left behind and to allow the love we had 

for them to continue to grow, 
blessing others in their path." 


Laura for sure is an Angel Comet.                                    
                                                                     


The authors of this "Comet" piece are Terry Lynn Taylor & Mary Beth Crain from their book, "Angel Wisdom".  




An Angelic reflection:  I know in my heart that love continues to grow across the barriers of time and space.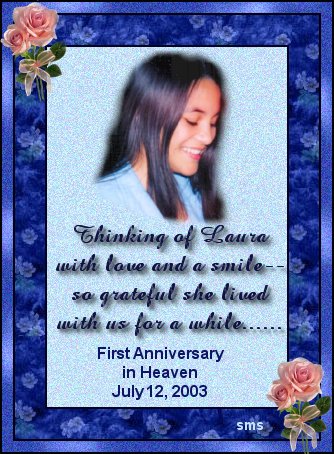 Photos taken July 12, 2003 on Laura's First Heavenly Angel Anniversary...